1995-2004 Toyota Tacoma – 1st Generation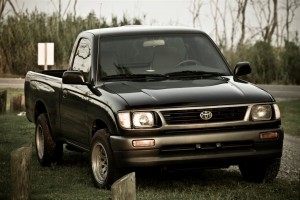 Model Years
2004, 2003, 2002, 2001, 2000, 1999, 1998, 1997, 1996, 1995
Fuel Economy
17-26 mpg
What to Know
1st Generation Tacomas come in a variety of configurations. 2wd mini-trucks, Pre-Runners and 4wd pickups in regular and extended cabs are available from 95-04 and Crew Cab configurations are available from 01-04. Don't expect to get anywhere fast in most trims. The 4-cylinder 2RZ is an incredibly reliable engine, but it isn't super powerful. The V6 offers a modest 190hp, but is typically found in 4wd models. Tacomas have truck interiors, don't be surprised by rattles and a noisy ride.
S-Runners are possibly the coolest vehicle from this generation, offering the 190hp V6 in the mini-truck body style.
When buying a 1st gen Tacoma, look for the following material issues:
Frame Rust: Toyota issued a major recall and bought back a large number of Tacomas. Most were bought back and destroyed or had a new frame installed, but some still remain with potentially dangerous frames.
Body Rust: This will be apparent from a visual inspection. Fenders, tailgates and door corners are typically the first to rust.
Reliability
Issues: Body Rust, Frame Rust, Fuel Pump
Lifespan Estimate: 250000 miles
Performance
Horsepower: 142 - 190hp
0-60 Time: 8 seconds
1/4 Mile Time: 15.9 seconds

Cost of Ownership
Depreciation: Minimal <5% per year
Maintenance Costs: Low
Average Insurance Costs in : Low