1997-2003 Ford F150 – 10th Generation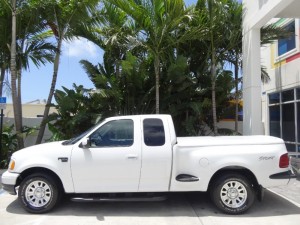 Model Years
2003, 2002, 2001, 2000, 1999, 1998, 1997
Fuel Economy
13-17 mpg
What to Know
10th Generation F150's are a moderately cheap choice for a full size pickup. Their styling is still cartoonish, with big curved body panels and rims that look tiny under the huge body. Cloth interiors are suspect, but standard fare for the time period. A 217 horsepower 4.2L V6 came standard, with regular models having the option for a 260 horsepower 5.4L V8. F150 Lightnings are sick trucks, with a supercharged 5.4L V8, putting out up to 380hp. They can be had for less than $10k, and are a super fun truck to drive, and I can't emphasize enough how good of a deal they are.
What to Look For
Spark Plug Issues – Some engines have a tendency to back out spark plugs, causing compression loss and potentially engine failure in extreme cases. A simple solution is to retorque the plugs every other oil change. Prevention can save you big money in this case.
Transmission Failure – It isn't particularly common, but watch for hard shifts and slipping. A number of transmissions have gone out at 60-80k miles. Expect to spend around $2500-3000 for parts/labor for a new or rebuilt transmission.
Body Rust & Clear Coat – Many of these trucks were either used as work trucks or have had rough lives. Green, white and beige trucks seem to be way more susceptible to having clear coat peeling, leaving a flaky looking finish. This is strictly aesthetic, but it is a known issue. Also be sure to check for rust near the door jams, on the bed and the bumper. Rust spreads, and is a pain to repair in most cases.
Reliability
Issues: Body Rust, Clear Coat Peeling, Misc Engine Component, Poor Quality Paint, Transmission, Suspension
Lifespan Estimate: 275000 miles
Performance
Horsepower: 217 - 380hp
0-60 Time: 8.2 seconds
1/4 Mile Time: 16.2 seconds

Cost of Ownership
Depreciation: Medium 10% per year
Maintenance Costs: Moderate
Average Insurance Costs in : Low