2004-2008 Ford F150 – 11th Generation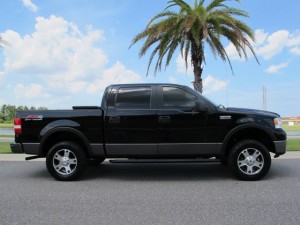 Model Years
2008, 2007, 2006, 2005, 2004
What to Know
11th generation F150's take an entirely new direction in styling with the futuristic styling found on full size trucks over the last 10 or so years. This generation of F150s is also a complete redesign, featuring not just new styling, but also new powertrains and drivetrains. A 210 horsepower 4.2L V6 comes standard on base model work trucks, and a 300 horsepower 5.4L V8 is the highest optioned engine. While the engines are a significant upgrade from the 10th gen's offerings, they are pulling around a 2.5 ton truck in most cases, leaving some to be desired in the power department. interior refinements are the biggest advantage 11th gens have over 10th gens. Interiors are much more sound, less rattle prone, more durable and easier to clean. Overall, 11th generation F150s are a common truck, but an unreliable one. They are cheap to buy, but expensive to maintain. This being said, you will be able to find plenty of parts at junk yards, simply because many people will tire of expensive repairs.
What to Look For
Spark Plug Issues – Good luck with this one. An engineering defect and handful of other issues have created a perfect storm related to spark plugs, especially in the 5.4L V8. Plugs tend to seize into their seats, and are typically broken when attempted to be removed. If the ceramic separates from the base of the plug, then there is no way to remove the plug without pulling the engine to remove the heads. Also, debris can be sent into the cylinders in certain cases. This will require EXTENSIVE work to repair. If the truck has the original factory plugs and over 60k miles, expect to spend upwards of $3000 in some cases to have the plugs changed.
Transmission –  Watch to see if overdrive properly engages and for hard shifts. The automatic transmissions in this generation can have issues show up as early as 60,000 miles. Make sure that the acceleration matches the rise in revs, as well as feel for any hard/abnormal shifts or overdrive acting funny. These issues will typically cost you $2500 or more for parts/labor.
Rear Differential – Look for wet spots on the differential or drips onto the pavement. Leaks can be a sign of a failed seal, which commonly leads to premature bearing failure. If caught early enough, it can be a simple fix, but worst case scenario requires a new rear differential, costing nearly $2000 in most cases.
Power Window Motors – The drivers side power window motors/actuators tend to go out on these trucks. While it is a simple fix compared to the issues listed above, it is still a pain to repair something when you shouldn't have to. Parts/labor (3 hours typically) in most cases should be around $500.
Reliability
Issues: Countless Small Issues, Electrical System, Engine Failure, Misc Engine Component, Power Window Motor, Transmission
Lifespan Estimate: 225000 miles
Performance
Horsepower: 210 - 300hp
0-60 Time: 9.8 seconds
1/4 Mile Time: 17.2 seconds

Cost of Ownership
Depreciation: Medium 10% per year
Maintenance Costs: Moderate
Average Insurance Costs in : Medium
Related Rides
Ford F-150 Parts