1988-2000 GMC C/K – 4th Generation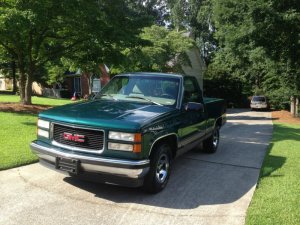 Model Years
2000, 1999, 1998, 1997, 1996, 1995, 1994, 1993, 1992, 1991, 1990, 1989, 1988
Fuel Economy
13-19 mpg
What to Know
4th Generation Chevy CK/Silverados are all in all, a great pickup truck. They offer a variety of drivetrain and bed configurations combined with relatively high reliability. Fuel economy isn't great, but most pickups from this time frame are comparable. The interiors are nothing special, with your typical cloth seats and a widespread problem of red interiors. Who really thinks a red interior on a pickup is a good idea? Aside from that, most creature comforts such as A/C and power windows are available on most models. Engine options range from a 4.3 liter V6 up to an 8.1 liter diesel. Of available engines, the 5.7 liter V8 is probably the best, simply because of the availability of aftermarket addons to boost performance and widespread availability of parts.
A 5.7, short bed, 2wd, 5 speed configuration is quite possibly one of the coolest full size pickups you can get. Toss on a cowl hood, a nice cam and some fat tires, and you'll surely have a great time driving it.
Common Issues
Fuel Pump – While not a widespread issue, fuel pumps will be a common issue to look for in 4th Generation Chevy CK's. Listen for a whirring sound when the key in in the ACC/ON position. Expect to spend $700-1000 to drop the tank or lift the bed to replace the fuel pump.
Vacuum System – This generation of trucks have all types of emissions/EVAP type controls, but don't always have an ODB II port. Watch for abnormal acceleration/misses during load to identify potential issues.
Reliability
Issues: A/C System, Body Rust, Electrical System, Fuel Pump, Interior Issue, Transmission, Suspension
Lifespan Estimate: 250000 miles
Performance
Horsepower: 150 - 290hp
0-60 Time: 7.6 seconds
1/4 Mile Time: 15.7 seconds

Cost of Ownership
Depreciation: Minimal <5% per year
Maintenance Costs: Moderate
Average Insurance Costs in : Medium