2004-2013 Nissan Titan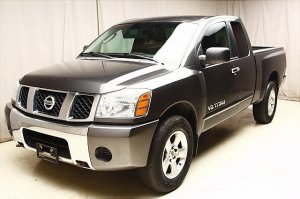 Model Years
2013, 2012, 2011, 2010, 2009, 2008, 2007, 2006, 2005, 2004
What to Know
The Titan is Nissan's only full size truck to date. It only offers extended cab and crew cab configurations and the 317 horsepower 5.6 liter V8. Performance for the Titan is pretty good, but the styling can be viewed as somewhat aging. The towing capacity tops out at 9,500lbs for the Titan.
What to consider when buying:
Differential issues (2004-2009 Model Years) Rear differentials manufactured by Dana for the Titan have known to fail anywhere from 80-100k miles. Replacement costs typically approach $4000.
Catalytic Converters can go bad every 40-50k miles on some Titans. Expect to spend near $1000 for each replacement.
Exhaust manifolds are prone to cracking. Total replacement costs can exceed $1500.
Reliability
Issues: Cooling System, Interior Issue, Differential
Lifespan Estimate: 160000 miles
Performance
Horsepower: 305 - 317hp
0-60 Time: 6.9 seconds
1/4 Mile Time: 15.4 seconds

Cost of Ownership
Depreciation: Medium 10% per year
Maintenance Costs: Moderate
Average Insurance Costs in : Medium
Related Rides
Nissan Titan Parts