1980-1987 Subaru BRAT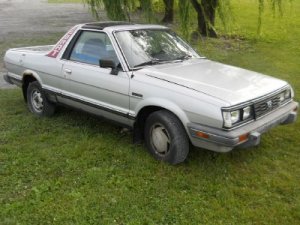 Model Years
1987, 1986, 1985, 1984, 1983, 1982, 1981, 1980
Fuel Economy
21-23 mpg
What to Know
The Subaru Brat is a rare breed. Half car, half truck, half dangerous. Most people probably remember Brats as having bolt on, rear facing seats in the bed. Aside from that, nothing really stands out. It is a sub-100hp econo-car that doesn't really get that great of gas mileage. If one can be had for under $2000 running, consider it a decent beater car.
Things to look for when buying:
Expect the paint/clear coat to be in rough shape on many of these cars. Most of them are 30 years old and have probably led rough lives.
Body rust. Check the obvious places, fenders, doors, wheel wells. It may not be an issue for some, but rust can ruin the integrity of the vehicle's body.
Engine. Make sure it has a normal idle. Listen/feel for surges at idle, make sure that it doesn't have any dead spots during acceleration.
Reliability
Issues: A/C System, Body Rust, Clear Coat Peeling, Electrical System, Fuel Pump, Interior Issue, Misc Engine Component, Poor Quality Paint, Transmission, Suspension
Lifespan Estimate: 175000 miles
Performance
Horsepower: 67 - 94hp
0-60 Time: 10.5 seconds
1/4 Mile Time: 18.3 seconds

Cost of Ownership
Depreciation: Minimal <5% per year
Maintenance Costs: Moderate
Average Insurance Costs in : Low
Related Rides