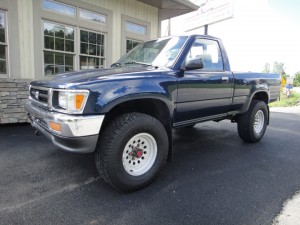 Fuel Economy
15-25 mpg
Placeholder
What to Know
5th Generation Toyota Pickups are quite possibly one of the most rugged trucks ever made. The mini-truck styled 2 wheel drive models typically feature the 22R-E fuel injected engine, which is arguably one of Toyota's best engines ever made. These engines will typically run to 250k miles, as long as you change the timing chains and the plastic guides that commonly wear. Extended cab 2wd models can be had with the 3.0 V6, meaning 150 horsepower in a relatively small, light pickup.
4 Wheel Drive models can be had with either the 4 cylinder or 6 cylinder engine; if given the option, go for the 6 cylinder, because 4wd trucks of this generation with the 22R-E tend to feel underpowered. There is a huge aftermarket and offroading community that embraces this generation of 'Yota. They're tough trucks with a short wheelbase that can go anywhere without reliability issues. If you're looking to start offroading without spending tons of money, this is the type of truck you want. Grab a single cab, manual transmission model, and you can have a blast without having to replace any parts. Manual locking hubs are standard with 4wd models.
All in all, the 5th gen pickups are great trucks, but they are plagued by rust. Fender and bed rust are the most common spots, but rust can easily be found throughout the body and possibly frame. As with any vehicle this age, be sure to check that creature comforts such as A/C, electronics and interior gadgets are to your liking. Toyota Pickups are notoriously minimalistic. The ride is rough and possibly noisy, but they are great trucks overall.
Reliability
Issues: A/C System, Body Rust, Electrical System, Fuel Pump, Interior Issue, Misc Engine Component, Suspension
Lifespan Estimate: 250000 miles
Performance
Horsepower: 113 - 150hp
0-60 Time: 8.8 seconds
1/4 Mile Time: 17.5 seconds

Cost of Ownership
Depreciation: Minimal <5% per year
Maintenance Costs: Low
Average Insurance Costs in : Low