1999-2007 GMC Sierra – 1st Generation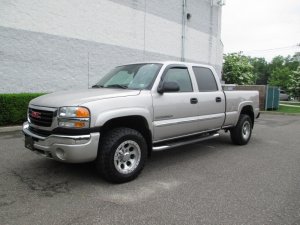 Model Years
2007, 2006, 2005, 2004, 2003, 2002, 2001, 2000, 1999
Fuel Economy
12-17 mpg
What to Know
The first generation GMC Sierra (See also 1st Generation Chevrolet Silverado) is one of the most popular trucks on the road. Offered in countless cab, bed and drive-train configurations, it will surely have an configuration available to suit nearly any need. The engine options are relatively solid, with the 5.3 liter V8 capable of lasting over 250,000 miles when properly maintained. That isn't to say that there aren't common issues with 1st generation Sierras.
Parts are PLENTIFUL, especially at junkyards. Parts are typically interchangeable with similar year Silverados.
Gauge Clusters/Speedometer – From 100k onward, many gauge clusters stop displaying correctly. Sometimes it is the fuel gauge reading incorrectly, other times it is the speedometer not working at all. If the speedometer isn't working, check to see that the odometer is correctly logging mileage. Expect to pay $500-700 for a new gauge cluster and installation.
Transmission – When used to tow, some Sierras have experienced transmission failure from 60k miles onward. During test drives, watch for rough shifts and acceleration not matching engine revs. In most cases, expect to spend upwards of $2000 to have a transmission rebuilt/replaced.
Fuel Pump – Fuel pumps on GMC Sierras will go bad. It is a matter of when. From personal experience, it is easier to lift the bed than drop the fuel tank to replace the fuel pump. Either way, expect to spend $1000-1500 to have a fuel pump replaced.
Power Windows – Expect to replace the power window motors after 100-125k miles, depending on how heavily they are used. The actual motors are cheap, $50-150 each, but installation can run upwards of $300 in some markets.
Reliability
Issues: A/C System, Misc Engine Component
Lifespan Estimate: 225000 miles
Performance
Horsepower: 190 - 300hp
0-60 Time: 8.3 seconds
1/4 Mile Time: 16.2 seconds

Cost of Ownership
Depreciation: Medium 10% per year
Maintenance Costs: Moderate
Average Insurance Costs in : Medium