2007-2013 GMC Sierra – 2nd Generation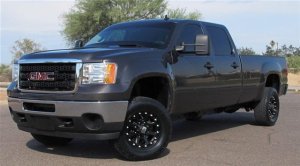 Model Years
2013, 2012, 2011, 2010, 2009, 2008, 2007
What to Know
The 2nd Generation GMC Sierra is restyled with the modernized boxy style. Visibility is suspect, expect to have limited rear visibility due to rear ride height. Ride quality is acceptable, expect minimal engine/road noise in the cab. Interior quality is decent, there are plenty of gadgets available, even if they aren't needed for a truck. The 4.3 V6 is the lowest optioned engine available, with 4.8, 5.3, and 6.2 V8's available on most cab configurations. Towing capacities vary based on cab configuration, engine and gear ratios, but range from 5900-15000 pounds.
Front axle seals from the factory are prone to leaking. Replacement costs are typically around $500 for parts and labor.
Leaky transmission fluid hoses were common on some 4 speed automatic 4WD model GMC Sierras. Replacing the hoses is typically a 1-2 hour job that costs $250 or less in most cases.
Reliability
Issues: Misc Engine Component
Lifespan Estimate: 200000 miles
Performance
Horsepower: 195 - 403hp
0-60 Time: 6.4 seconds
1/4 Mile Time: 14.3 seconds

Cost of Ownership
Depreciation: High 17.5% or higher per year
Maintenance Costs: Low
Average Insurance Costs in : Medium
Related Rides
GMC Sierra Parts