1982-1993 GMC Sonoma – 1st Generation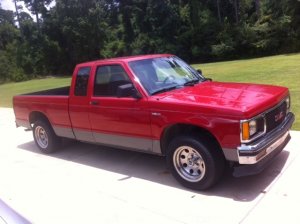 Model Years
1993, 1992, 1991, 1990, 1989, 1988, 1987, 1986, 1985, 1984, 1983, 1982
What to Know
1st Generation Sonoma's and S-10's were GM's first successful step into the small size pickup market. They have spartan interiors, boxy styling, and a "trucky" feel. They only have single and extended cabs in either 2wd or 4wd.
Common Issues
Body Rust – 20 year old trucks will rust. Check door corners, cab corners and quarter panels. Rust spreads, so take that into mind when negotiating.
Fuel Pump – As expected with 80's and 90's GM vehicles, the fuel pumps have a tendency to fail. Expect to spend around $700-1000 to have it replaced at a shop, or around $100-200 for the pump to replace yourself.
Reliability
Issues: A/C System, Body Rust, Fuel Pump, Interior Issue, Misc Engine Component, Transmission
Lifespan Estimate: 180000 miles
Performance
Horsepower: 82 - 195hp
0-60 Time: 7.5 seconds
1/4 Mile Time: 16.5 seconds

Cost of Ownership
Depreciation: Minimal <5% per year
Maintenance Costs: Low
Average Insurance Costs in : Low
Related Rides
GMC Sonoma Parts