2005-2013 Nissan Frontier – 2nd Generation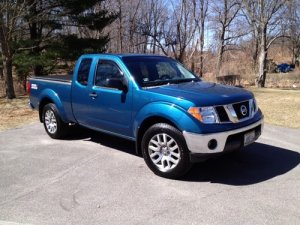 Model Years
2013, 2012, 2011, 2010, 2009, 2008, 2007, 2006, 2005
Fuel Economy
19-21 mpg
What to Know
2nd Gen Frontiers are a hardy work truck. They feature typical 2005 onward boxy styling found in trucks across all automakers. It is a truck, so expect rattles and various road noises while driving. Power is adequate in all models, just don't expect to win many races, because again, it is a truck.
The only "catastrophic" issue with 2nd generation Frontiers is a hole developing between the radiator and transmission cooler. This allows coolant and transmission fluid to mix. Typically the radiator and transmission require replacement, costing in excess of $5000 to replace or $2500 to repair.
At 40k miles and upwards, fuel sending units have a tendency to go out on 2nd gen Frontiers. They were initially covered under a Nissan recall, but are likely out of warranty now.
Rear differential seals typically go bad at 50-60k miles, requiring replacement. 2-3 hour job at minimum, expect to pay upwards of $500 at most shops.
Belt tensioners are known to wear excessively, causing squeaky belts/loss of power. Recalls covered some models, but expect to spend near $1000 to repair out of warranty.
ECU relays, while easy to replace, can be expensive. 2nd generation Frontiers are known to burn them up, requiring replacement. Some relays are over $100 each, but can be replaced in under 10 minutes.
Reliability
Issues: Fuel Pump, Misc Engine Component, Transmission
Lifespan Estimate: 175000 miles
Performance
Horsepower: 154 - 265hp
0-60 Time: 7.5 seconds
1/4 Mile Time: 15.8 seconds

Cost of Ownership
Depreciation: High 17.5% or higher per year
Maintenance Costs: Moderate
Average Insurance Costs in : Medium