2003-2006 Subaru Baja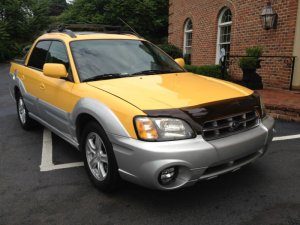 Model Years
2006, 2005, 2004, 2003
What to Know
The Subaru Baja is a decent all around compact SUV/Truck crossover. It is relatively reliable, has a short bed for cargo and four doors. The Baja is essentially a large car with a truck bed instead of a trunk. Performance isn't anything special, even in the 210hp turbo model, but the lack of power is made up for by decent fuel economy and all wheel drive. The interior is adequate, all of the necessities are available, it just depends on your preferences and expectations.
What to look for when buying:
Gaskets. Ask if the head gasket and manifold gaskets have been replaced. A design flaw can cause premature gasket failure and issues with the cooling system.
Aside from the gaskets, the Baja is a relatively solid vehicle. Always visually inspect the vehicle for dings and bumps and mechanical issues during the test drive.
Reliability
Issues: Cooling System, Misc Engine Component
Lifespan Estimate: 175000 miles
Performance
Horsepower: 165 - 210hp
0-60 Time: 10.5 seconds
1/4 Mile Time: 17.5 seconds

Cost of Ownership
Depreciation: Minimal <5% per year
Maintenance Costs: Low
Average Insurance Costs in : Medium
Related Rides
Subaru Baja Parts