2007-2014 Toyota Tundra – 2nd Generation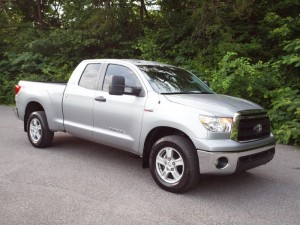 Model Years
2014, 2013, 2012, 2011, 2010, 2009, 2008, 2007
Fuel Economy
14-17 mpg
What to Know
The 2nd Generation Tundra is quite possibly the "truckiest truck" Toyota has ever made. This generation of Tundras steps up in size and power. 2nd Gen Tundras receive the 381hp 5.7 liter V8 as the top billed engine. While still a truck, this generation of Tundra has good ride quality and a decent interior. Expect some rattles and wind noise, because it is still a truck.
When Buying:
Avoid 2007 Model Years if possible. There are a few issues with camshafts and 4wd system issues. Toyota issued non-transferable warranties to cover these issues.
Check for rust. Some owners have complained about excessive frame rust after 1-2 winters. This isn't a dealbreaker, but a 5 year old truck shouldn't have too rusty of a frame.
Reliability
Issues: Electrical System, Interior Issue, Misc Engine Component
Lifespan Estimate: 225000 miles
Performance
Horsepower: 236 - 381hp
0-60 Time: 6 seconds
1/4 Mile Time: 14.7 seconds

Cost of Ownership
Depreciation: High 17.5% or higher per year
Maintenance Costs: Moderate
Average Insurance Costs in : High